The Christmas Eve Box
You or the kids too excited to settle to anything on Christmas Eve? Hard waiting for Santa to arrive? What about preparing a Christmas Eve Box to make the waiting more bearable and have a Merry Christmas Eve?
It's a great new tradition that you may want to start for yourself or your own family of a box or bag to open on Christmas Eve. It doesn't have to contain anything massively expensive. It can be one box for each person or one for the whole family. Certainly a family bag or box could help lessen the overall cost.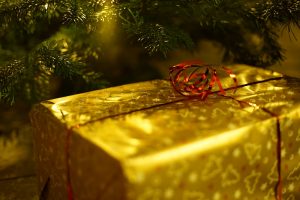 Some Ideas For Inclusions
You may want to put in Christmas PJs, or onesies to start off the Christmas spirit and keep everyone warm and cosy. You could also include a movie, especially a Christmas themed one, plus some candy, hot chocolate, etc. It's easier to include single items, like movies, if you use a family box, rather than individual boxes, though if your family are at the stage where they don't want to watch a movie together, you may decide to include games for various machines and then perhaps individual boxes would be better.
Less Expensive Items
Christmas socks.
These can have non-slip soles for running around shoe-less, without slipping and sliding on polished floors. You can go for non-Christmas themed socks, such as superheroes, or cartoon animals, or Christmas themes. Non slip socks are available for men, women and children and can be a useful gift for a senior in a hospital or care home.
Music
Christmas music playing softly in the background can be a great way of keeping the whole family calm, while still excited about Christmas. There are many compilations you can buy as CDs or download straight onto a player. And if you want to listen to Christmas music for free, try these original Victorian themed Christmas songs, available online.
Books
There are many children's books about Christmas, whether religious or secular, depending on your preference. Or why not treat yourself to a Christmas themed book? A number of genres include stories with a Christmas setting or theme, including romance, horror, crime, etc. There are also puzzle and coloring books available with Christmas themes. If you are buying coloring or puzzle books, remember to include pencils or crayons, plus a safety sharpener and perhaps an eraser. If your box includes electric toys, remember batteries.
Pet Presents
If you have a family pet, you may wish to include them in the Christmas Eve celebrations, perhaps with pet treats or even a Christmas costume, if your pet would wear it.
After Christmas Events
Your Christmas Eve box may be the place to surprise the family with an after Christmas event, such as Pantomime tickets, or a visit to an ice skating rink or even a ballet or concert. If you like to take a holiday at Christmas, then your Christmas Eve box could be something light to take along with you on holiday, leaving the Christmas presents back at home ready for your return. You can still carry Christmas with you.
Christmas Eve Splurges
Your Christmas Eve box could also include things to do with Christmas, like art for the Christmas tree, such as painted slates or wooden shapes to hang on the tree. These are novel decorations that you can either purchase from a local artist or buy blank to decorate yourself. This could be an activity to keep children occupied and provides keepsakes for that particular Christmas.
Other Christmas Eve Box Gifts
Depending on the age, gender and composition of your Christmas Eve gathering, you might include gifts like jewelry, silver photo frames, tickets for a holiday, or even non-monetary gifts such as paper promises of time spent with someone. Some really desirable gifts might be an evening's baby sitting, a promise to wash the dishes (or fill the dishwasher) or tidy a room or declutter a cupboard, or even read a long story over several nights to a child. These do not cost the donor any money but provide very welcome gifts., because you are giving the gift of your time and attention.
Leave A Comment
Got a great idea for a Christmas Eve Box item? Leave a comment and share it with us.