An Indoor Snowman or Snowwoman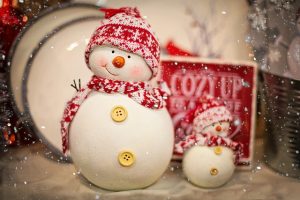 It may seem odd to have an indoor snowman (or snowwoman) but if you can't go out in the cold or you don't have much snow in your area, an indoor snowman is a fun way to enjoy making your own snowman without any snow and without getting your hands cold!
Light up the Snowman
Lighting up a snowman indoors can be a fun and festive way to decorate your home during the winter season or for special occasions. Here's a simple guide on how to create a light-up snowman indoors:
Materials you'll need:
White styrofoam balls in various sizes (or any other material for creating the snowman's body)
Black felt or construction paper (for the snowman's eyes, mouth, and buttons)
Orange felt or construction paper (for the snowman's nose)
Small twigs or pipe cleaners (for the snowman's arms)
Scarf, hat, and any other accessories you'd like to add
Clear string lights or LED fairy lights
Step-by-step instructions:
Build the snowman's body: Stack the white styrofoam balls on top of each other from largest to smallest, creating a snowman shape. You can use glue or toothpicks to secure the balls together.
Add facial features: Cut out eyes, a mouth, and buttons from the black felt or construction paper, and stick them onto the snowman's head.
Create the nose: Cut a small triangle from the orange felt or construction paper and attach it to the snowman's face to make the nose.
Add arms: Use small twigs or pipe cleaners and insert them into the middle ball of the snowman's body to create arms.
Dress up the snowman: Put a scarf around the snowman's neck and place a hat on its head. You can also add other accessories like mittens or a small broom for extra detail.
Prepare the lights: Wrap clear string lights or LED fairy lights around the snowman's body, being careful not to cover the facial features or accessories. Make sure the lights are evenly distributed and secure them in place with tape or by tucking them into the snowman's body.
Plug in and enjoy: Once you're satisfied with the snowman's appearance and the lights are securely in place, plug in the lights and watch your indoor snowman come to life with a warm and enchanting glow!
Safety Tips:
When using string lights or fairy lights, ensure they are in good working condition and do not have any exposed wires.
Avoid using candles or any open flames near the snowman or other flammable materials.
Keep the snowman away from curtains, fabrics, and other potentially hazardous areas.
Remember to have fun and get creative with your light-up snowman indoor decoration. It will surely add a charming touch to your home during the winter season or any festive occasion!
Other Light-up Christmas Decorations
There are numerous creative and delightful light-up Christmas decorations you can make to add a festive ambiance to your home during the holiday season. Here are some ideas:
Light-Up Christmas Wreath
Create a traditional Christmas wreath using artificial greenery, pine cones, and ornaments. Add battery-powered LED lights or string lights intertwined throughout the wreath for a warm and welcoming glow.
Mason Jar Luminaries
Decorate mason jars with holiday-themed stickers, snowflakes, or paint. Insert fairy lights or battery-operated tea lights inside the jars to create charming luminaries for your windowsills or tabletops.
Light-Up Christmas Tree Centerpiece
Craft a small tabletop Christmas tree using cardboard or craft foam. Add colorful ornaments, beads, and garlands, and wrap string lights around the tree to create a sparkling centerpiece.
Glowing Snowflake Window Clings
Cut snowflake shapes out of translucent vellum paper or plastic sheets. Stick them to your windows and add LED lights behind the snowflakes for a magical, snowy effect.
DIY Christmas Lanterns
Decorate glass or metal lanterns with holiday-themed stencils, ribbons, or paint. Place battery-operated pillar candles or LED string lights inside the lanterns for a cozy and safe illumination.
Light-Up Christmas Canvas Art
Create festive holiday scenes on canvases using acrylic paints. Embed LED lights or fairy lights within the artwork to make the elements of the painting come to life with a warm glow.
Twinkling Christmas Garland
Enhance a standard Christmas garland with battery-powered twinkle lights. Drape the garland along the staircase, fireplace mantel, or across a bookshelf for a magical touch.
Illuminated Christmas Village
Build a miniature Christmas village using cardboard, craft foam, or even recycled materials. Place battery-operated tea lights inside the buildings to bring the village to life with a cozy radiance.
Light-Up Christmas Stockings
Embellish your Christmas stockings with battery-powered LED lights or fairy lights. Hang them on the mantle, and they'll add an extra twinkle to your holiday decor.
Light-Up Mason Jar Snow Globes
Create your own snow globes using mason jars, water, faux snow, and small holiday figurines. Add LED lights inside the jar to illuminate the scene and give it a magical feel.
Remember to prioritize safety when making light-up Christmas decorations. Always use battery-operated lights or LED lights to avoid any fire hazards, especially when using materials like paper or fabric. Enjoy the creative process, and have a merry and luminous Christmas!